Product Summary
The LT1170CQ is a monolithic high power switching regulator. The device can be operated in all standard switching configurations including buck, boost, flyback, forward, inverting and Cuk. A high current, high efficiency switch is included on the die along with all oscillator, control and protection circuitry. Integration of all functions allows the LT1170CQ to be built in a standard 5-pin TO-3 or TO-220 power package as well as the 8-pin packages (LT1172). This makes it extremely easy to use and provides bust proof operation similar to that obtained with 3-pin linear regulators. The applications of the LT1170CQ include Logic Supply 5V at 10A, 5V Logic to ±15V Op Amp Supply, Battery Upconverter, Power Inverter (+ to –) or (– to +) and Fully Floating Multiple Outputs.
Parametrics
LT1170CQ absolute maximum ratings: (1)Supply Voltage: 60V; (2)Switch Output Voltage: 75V; (3)Feedback Pin Voltage (Transient, 1ms): ±15V; (4)Storage Temperature Range: – 65 to 150℃; (5)Lead Temperature (Soldering, 10 sec): 300℃; (6)Operating Junction Temperature Range: -55 to 150℃.
Features
LT1170CQ features: (1)Wide Input Voltage Range: 3V to 60V; (2)Low Quiescent Current: 6mA; (3)Internal 5A Switch; (4)Shutdown Mode Draws Only 50μA Supply Current; (5)Very Few External Parts Required; (6)Self-Protected Against Overloads; (7)Operates in Nearly All Switching Topologies; (8)Flyback-Regulated Mode Has Fully Floating Outputs; (9)Comes in Standard 5-Pin Packages; (10)Can Be Externally Synchronized.
Diagrams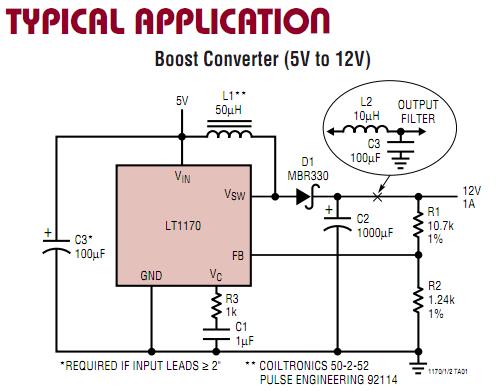 Image
Part No
Mfg
Description
Pricing
(USD)
Quantity

LT1170CQ



IC REG MULTI CONFIG ADJ 5A D2PAK

Data Sheet



LT1170CQ#PBF



IC REG MULTI CONFIG ADJ 5A D2PAK

Data Sheet



| | |
| --- | --- |
| 0-1: | $7.01 |
| 1-25: | $4.65 |
| 25-100: | $3.63 |


LT1170CQ#TR



IC REG MULTI CONFIG ADJ 5A D2PAK

Data Sheet



LT1170CQ#TRPBF



IC REG MULTI CONFIG ADJ 5A D2PAK

Data Sheet