Product Summary
The AC101LKQT is a 10/100 base-tx single-phy transceiver.
Parametrics
AC101LKQT absolute maximum rating: Supplyvoltage: 3.3V.
Features
AC101LKQT features: (1)Single port: 10BASE-T/100BASE-TX/100BASE-FX, Full Duplex or Half Duplex; (2)Power Supply: 2.5V or 3.3V; (3)Integrated voltage regulator to allow operation from single supply source; (4)Single port-MII or RMII; (5)HPAuto-MDIX; (6)Very small package-48-pin TQFP 49 sq. mm footprint; (7)Very low power-Typical < 200mW (100BASE-TX); (8)Fully compliant with IEEE 802.3 / 802.3u; (9)Baseline wander correction; (10)Multi-function programmable LED outputs; (11)Reverse polarity detection and correction; (12)Read/write register bit indication; (13)Industrial temperature (3.3V only).
Diagrams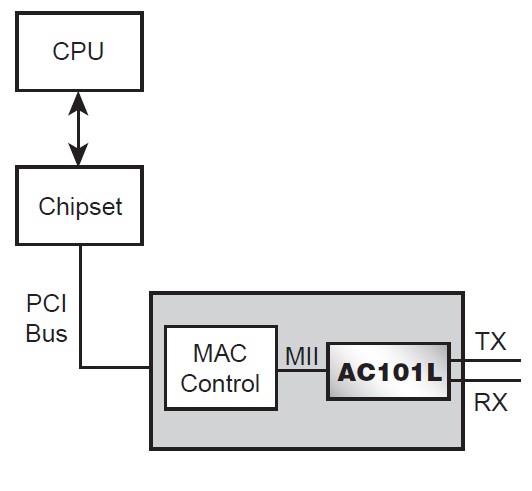 Image
Part No
Mfg
Description
Pricing
(USD)
Quantity

AC101LKQTG

Other



Data Sheet

Negotiable
Image
Part No
Mfg
Description
Pricing
(USD)
Quantity

AC10000002701JAB00



RES 2.7K OHM WW 10W 5% AXL

Data Sheet



AC10000002702JAB00



RES 27K OHM WW 10W 5% AXL

Data Sheet



AC10000006801JAB00



RES 6.8K OHM WW 10W 5% AXL

Data Sheet



AC1000V

Other



Data Sheet

Negotiable

AC1005



TRANSFORMER CURRENT 5.0 AMP

Data Sheet



| | |
| --- | --- |
| 0-1: | $7.12 |
| 1-10: | $6.10 |
| 10-25: | $5.70 |
| 25-50: | $5.09 |
| 50-100: | $4.07 |
| 100-250: | $3.46 |
| 250-500: | $3.15 |
| 500-1000: | $2.85 |


AC1008

Other



Data Sheet

Negotiable