Product Summary
The MAX708SESA-TG is a microprocessor (μP) supervisory circuit. The device reduces the complexity and number of components required to monitor +3V power-supply levels in +3V to +5V μP systems. The MAX708SESA-TG significantly improves system reliability and accuracy compared to separate ICs or discrete components. The applications of the MAX708SESA-TG include Computers, Embedded System, Battery Powered Equipment and Critical μP Power Supply Monitor.
Parametrics
MAX708SESA-TG absolute maximum ratings: (1)Terminal Voltage (with respect to GND):VCC:-0.3V to +6V, All Other Inputs:-0.3V to (VCC + 0.3V); (2)Input Current:VCC:20mA, GND: 20mA; (3)Output Current (all outputs):20mA; (4)Continuous Power Dissipation (TA = +70℃):470.6mW; (5)Operating Temperature Range:-40℃ to +85℃; (6)Junction Temperature:+150℃; (7)Storage Temperature Range:-65℃ to +150℃; (8)Lead Temperature (soldering, 10s):+300℃.
Features
MAX708SESA-TG features: (1)μMAX Package, Small 8-Pin SO; (2)Precision Supply-Voltage Monitors 2.63V; (3)200ms Reset Time Delay; (4)Debounced TTL/CMOS-Compatible Manual Reset Input; (5)100μA Quiescent Current; (6)Watchdog Timer: 1.6s Timeout; (7)Reset Output Signal:Active-High and Active-Low; (8)Voltage Monitor for Power-Fail or Low-Battery Warning; (9)8-Pin Surface-Mount Package; (10)Guaranteed RESET Assertion to VCC = 1V.
Diagrams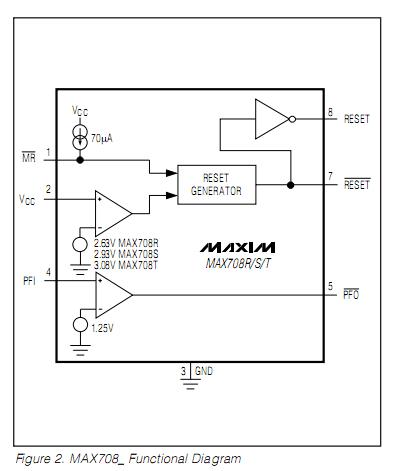 Image
Part No
Mfg
Description
Pricing
(USD)
Quantity

MAX708SESA-TG

ON Semiconductor

Supervisory Circuits 2.93V uP Supervisory

Data Sheet



| | |
| --- | --- |
| 0-1: | $0.45 |
| 1-25: | $0.41 |
| 25-100: | $0.29 |
| 100-500: | $0.24 |

Image
Part No
Mfg
Description
Pricing
(USD)
Quantity

MAX700

Other



Data Sheet

Negotiable

MAX7000

Other



Data Sheet

Negotiable

MAX7000A

Other



Data Sheet

Negotiable

MAX700C/D

Maxim Integrated Products

Supervisory Circuits

Data Sheet

Negotiable

MAX700CPA

Maxim Integrated Products

Supervisory Circuits Integrated Circuits (ICs)

Data Sheet

Negotiable

MAX700CPA+

Maxim Integrated Products

Supervisory Circuits Power-Supply Monitor w/Reset

Data Sheet



| | |
| --- | --- |
| 0-1: | $3.60 |
| 1-25: | $2.40 |
| 25-50: | $1.74 |
| 50-250: | $1.71 |