Product Summary
The NET2272REV1A-LF is a Local Bus to Hi-Speed USB 2.0 Peripheral Controller. It is designed for low power and high performance applications. The NET2272REV1A-LF low power requirements (186mW active, 8.1μW standby) make it ideal for bus-powered or battery-powered applications. USB bus-powered devices are allowed to draw a maximum 500mA (according to the USB specification) of operating current from the PC through the USB cable. The NET2272REV1A-LF low power makes this requirement easy to support. Furthermore, the variable I/O voltage (1.8V to 5V) makes it easy to connect to other low power components. The NET2272REV1A-LF features the highest sustained data transfer speeds on USB-up to 40Mbytes/sec. An optional Split Bus mode allows for simultaneous DMA and CPU access to the device.
Parametrics
NET2272REV1A-LF specifications: (1)Product Category: Peripheral Drivers & Components (PCIs); (2)Package / Case: TQFP-64; (3)Packaging: Tray; (4)Maximum Operating Temperature: + 125℃; (5)Minimum Operating Temperature: - 40℃; (6)Mounting Style: SMD/SMT; (7)Operating Supply Voltage: 1.8 V to 5 V; (8)Standard Pack Qty: 800; (9)Supply Current (Max): 500 mA.
Features
NET2272REV1A-LF features: (1)8/16 bit local bus connects gluelessly tmost CPUs, DSPs, and DMA controllers; (2)Hi-Speed USB 2.0 Peripheral Port; (3)Bursting DMA support facilitates data transfers at 480 Mbps; (4)High Bandwidth Isochronous Support; (5)Low Power(186mW) requirements ideal for USB Bus-Powered Operation; (6)Lowest standby power in its class(8.1μW); (7)Variable I/O voltage (1.8V t5V); (8)Lead Free Packaging; (9)10x10mm 64-Pin TQFP Package; (10)6x6mm, 64-Ball BGA Package.
Diagrams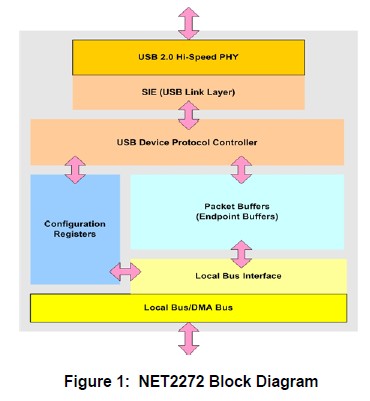 Image
Part No
Mfg
Description
Pricing
(USD)
Quantity

NET2272REV1A-LF

PLX Technology

Peripheral Drivers & Components (PCIs) Local Bus to HiSpeed USB 2.0 Controller

Data Sheet



| | |
| --- | --- |
| 0-1: | $6.89 |
| 1-50: | $6.48 |
| 50-100: | $6.06 |
| 100-500: | $5.86 |

Image
Part No
Mfg
Description
Pricing
(USD)
Quantity

NET20DC

PLX Technology

Interface Development Tools USB 2.0 HOST DE-BUG

Data Sheet

Negotiable

NET2252-AA-BF

PLX Technology

Peripheral Drivers & Components (PCIs) USB Controller

Data Sheet



NET2270PCI-RDK

PLX Technology

Interface Development Tools NET2270 PCI KIT

Data Sheet

Negotiable

NET2270REV3B-LF

PLX Technology

Peripheral Drivers & Components (PCIs) Local Bus to HiSpeed USB 2.0 Controller

Data Sheet



| | |
| --- | --- |
| 0-1: | $7.55 |
| 1-50: | $7.13 |
| 50-100: | $6.63 |
| 100-500: | $6.40 |


NET2272PCI-RDK

PLX Technology

Interface Development Tools NET2272 PCI KIT

Data Sheet

Negotiable

NET2272RDK-II

PLX Technology

Interface Development Tools NET2272 PCI KIT

Data Sheet