Product Summary
The STV2248H is a fully bus-controlled IC for TV that include PIF, SIF, Luma, Chroma and Deflection processing functions. Used with a vertical frame booster, the STV2248H allows multistandard sets to be de-signed with very few external components and no manual adjustments.
Parametrics
STV2248H absolute maximum ratings: (1)VCC_8V, 8 V Supply Voltage: 10 V; (2)VCC_5V, 5 V Supply Voltage: 7 V; (3)VESD, Capacitor 100 pF discharged via 1.5 kΩ serial resistance (Human Body Model): ±2 kV; (4)TOPER, Operating Temperature: 0, +70℃; (5)TSTG, Storage Temperature: -55, +150℃.
Features
STV2248H features: (1)PIF Circuit with PLL Demodulation; (2)SIF Circuit with QSS Structure, FM Demodulation and AM Demodulation for France; (3)Intercarrier Capability; (4)Built-in Sound Bandpass; (5)Sound Subcarrier Output for Stereo Chassis (FM, NICAM); (6)Audio FM wide mode; (7)Audio Switch and Volume Control (Mono Chassis); (8)AVL (Automatic Volume Levelling); (9)Integrated Chroma Filters and Luma Delay Line; (10)Integrated Chroma Delay Line; (11)Video Switch (3 CVBS In, 2 CVBS Out); (12)SVHS Switch (Y Combined with CVBS3 Input); (13)OSD RGB Inputs; (14)External RGB/YCrCb Inputs or YUV Interface; (15)PAL / SECAM / NTSC Chroma Demodulators; (16)Auto Flesh Control Capability in NTSC mode; (17)South America Capability (PAL-M / PAL-N /NTSC); (18)Chroma Subcarrier Output; (19)Black Stretch Circuit.
Diagrams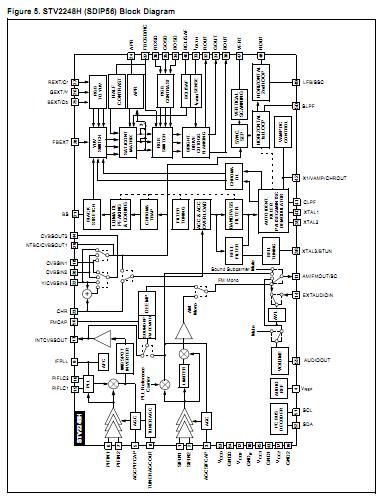 STV200N55F3

STMicroelectronics

MOSFET N-channel 55 V

Data Sheet



| | |
| --- | --- |
| 0-1: | $3.53 |
| 1-10: | $3.18 |
| 10-100: | $2.59 |
| 100-250: | $2.35 |


STV2050A

STMicroelectronics

Video ICs Digital Conv Procssr

Data Sheet

Negotiable

STV2112B

Other



Data Sheet

Negotiable

STV2116A

Other



Data Sheet

Negotiable

STV2118B

STMicroelectronics

Audio DSPs I2C Bus Controller

Data Sheet

Negotiable

STV2145

Other



Data Sheet

Negotiable