Product Summary
The DIP-1A05 is a reed relay.
Parametrics
DIP-1A05 absolute maximum ratings: (1)max switching power: 10W; (2)max switching voltage: 100VDC or peak AC; (3)max switching current: 0.5A; (4)max carry current: 1A.
Features
DIP-1A05 features: (1)epoxy moldede, 14 pin dual-in-line packages; (2)can be immersed during board cleaning operations; (3)high isolation between input and output; (4)high speed and low driving power; (5)diode and magnetic shield available.
Diagrams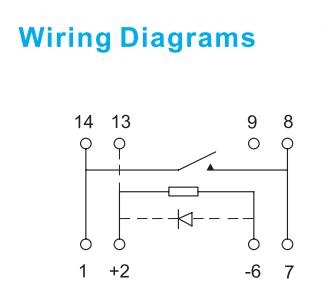 DIP-1989-02-1003-B

IRC

Resistor Networks & Arrays 100K 0.1% 50PPM

Data Sheet



| | |
| --- | --- |
| 0-56: | $7.65 |
| 56-100: | $7.32 |
| 100-250: | $6.59 |
| 250-500: | $5.91 |


DIP-1989-02-2002-B

IRC

Resistor Networks & Arrays 20K .1% 50PPM

Data Sheet



| | |
| --- | --- |
| 0-59: | $7.32 |
| 59-100: | $6.80 |
| 100-250: | $6.59 |
| 250-500: | $5.91 |


DIP-1998-02-1003-D

IRC

Resistor Networks & Arrays 100K .5% 50PPM

Data Sheet



| | |
| --- | --- |
| 0-63: | $6.88 |
| 63-100: | $6.24 |
| 100-250: | $6.02 |
| 250-500: | $5.59 |


DIP-1999-02-1002-B

IRC

Resistor Networks & Arrays 10K .1% 50PPM

Data Sheet



| | |
| --- | --- |
| 0-63: | $8.20 |
| 63-100: | $7.43 |
| 100-250: | $7.18 |
| 250-500: | $6.66 |


DIP-1999-02-2002-D

IRC

Resistor Networks & Arrays 20K .5% 50PPM

Data Sheet



| | |
| --- | --- |
| 0-63: | $6.88 |
| 63-100: | $6.24 |
| 100-250: | $6.02 |
| 250-500: | $5.59 |


DIP-1999-02-4702-B

IRC

Resistor Networks & Arrays 47K .1% 50PPM

Data Sheet



| | |
| --- | --- |
| 0-63: | $8.20 |
| 63-100: | $7.44 |
| 100-250: | $7.18 |
| 250-500: | $6.67 |